Rodney D. Carson comes from a military and law enforcement background. His father, a Vietnam veteran, retired after 25 years of service in the United States Air Force. Previously, SDI Carson was a Peace Officer with the California Department of Youth Authority, served as a Group Supervisor and Youth Counselor for 12 years, and was a member of the Preston Tactical Team.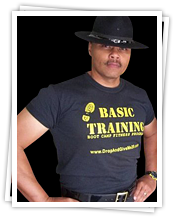 SDI Carson earned the title of Drill Instructor and T.A.C. Officer with the Youth Offender LEAD Boot Camp Program. SDI Carson's unique experience as a Drill Instructor and Master Fitness Trainer includes training at military bases such as Army National Guard Camp San Luis Obispo, Marine Corps Recruit Depot, San Diego and USMC Camp Pendleton, Oceanside.
A strong believer in Health and Fitness, SDI Carson developed workouts with the same "Get Fit Fast" concept inherent in most military Basic Training programs. SDI Carson designed all workouts for males and females, regardless of fitness level. A master motivator, SDI Carson follows John Wooden's moto: "Never let what you cannot do, interfere with what you can do." SDI Carson's mentor is 1st Sgt. Henry "Buzz" Hill Jr.
Qualifications and Background
Senior Drill Instructor, California Youth Authority, 3 years (9 training cycles – "The Toughest Beat In The State")
Certified Personal Trainer, California State University Hayward Health & Fitness Institute, Dr. Donald Chu
Certified Marine Corps H.I.T.T. High Intensity Tactical Training Instructor
Certified USA Track & Field Level 1 Coach
Certified USA Para-Powerlifting Level 1 Coach
Certified TRX Suspension Trainer, Qualified Force Level 2 Instructor
Certified TRX Rip Trainer, Qualified Level 1 Instructor
Certified CrossFit, Lievel I Instructor
Certified Kickboxing Instructor, United World Muay Thai Association (Trained in Thailand)
Licensed Cage Fitness/Cage Fitness – Boot Camp Instructor
Mixed Martial Arts Experience, Judo, Tae Kwon Do, Wing-Chun, Jeet Kun Do, AshanTao, Boxing, Arnis/Eskrima and Jui Jitsu
Lead Instructor, RINGSIDE Kickboxing Boot Camp
Lead Instructor, SPARQ Training
Lead Instructor, DYNAMAX Medicine Ball Training
Lead Instructor, MARINE CORPS Daily 16 Exercise Program
Recipient Bryant "True Heroes" National Award
Strength & Conditioning Coach, Marine Corps Recruiting Sub Stations S. Sacramento & Roseville
Strength & Conditioning Coach, USA Paralympic Sport Club – Military & Veteran Programs
Strength & Conditioning/Track Coach, TEAM USA – Invictus Games @ ESPN Sports Complex
Strength & Conditioning/Head Track Coach, ARMY – Warrior Transition Command
Strength & Conditioning/Track Coach, Warrior Games @ Air Force Academy
Strength & Conditioning/Track Coach, Army Trials @ West Point Military Academy
Strength & Conditioning/Track Coach, Marine Corps Trials @ Camp Pendleton
Strength & Conditioning/Track Coach, MARINE CORPS – Wounded Warrior Regiment Camps
Strength & Conditioning/Track Coach, ARMY – Warrior Transition Command Camps
Strength & Conditioning/Track Coach, Roseville High School
Strength & Conditioning/Track Coach, Holy Family Catholic School
Strength & Conditioning/P.E. Coach, Visions In Education
Sports Complex
Member, IDEA Health & Fitness Organization
Presenter, IDEA World Fitness Convention
Member, National Association of Drill Instructors
Member, National Federation High School – Coaches Association
Member, USA Track & Field Association
Member, USA Police Decathlon Team
Decathlon Champion, World Police & Fire Games
Decathlon Champion, International Law Enforcement Olympics
3x Decathlon Champion, National Police Summer Games
3x Decathlon Champion, California Police Summer Games
Gold Medalist – 100, 200 & 400 Meter Sprints – International Masters Track Circuit
Gold Medalist – 400 & 1,600 Meter Relays – International Police & Fire Track Circuit
3x CIF High School State Track & Field Championship Competitor
Nike & Power Bar Sponsored Athlete, Decathlete & Sprinter
Founder & Race Director, Annual Mather Mud Run – The Original Nor Cal Mud Run – 10 Years Strong!
Founder & Race Director, Annual Armed Forces Day Mud Run
Founder & Event Coordinator, Grunt Games – Mission Ready Challenge
Founder & Senior Drill Instructor, Basic Training Boot Camp Fitness Program
Founder & Lead Instructor, Ringside Kickboxing Boot Camp
Co-Founder & Coach, Kids ABC's – Kids Athletic Boot Camp
Competitor, Marine Corps 10k Mud-Run, Camp Pendleton
Competitor, Marine Corps Boot Camp Challenge, M.C.R.D. San Diego
Certified Antiterrorism Awareness Training, JKO Level 1
Certified Administrator, Residential Care Facilities for the Elderly
Certified C.P.R. and First Aid Training, American Red Cross