Michelle Bowers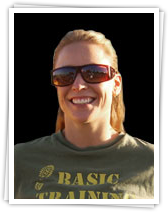 Michelle Bowers has been instrumental with Basic Training Boot Camp Fitness Program for many years, which has inspired her to achieve her fitness goals. Basic Training Boot Camp Fitness Program has given Michelle Bowers the ability to participate in all of her favorite sporting activities, including: swimming, wakeboarding, snowboarding and scuba diving. Michelle Bowers' personal belief is that "The time is always right to do what is right." (Martin Luther King Jr.)
Qualifications and Background
Rancho Seco Tri for Funs
Mather Mud Runs since 2002
---
Penny Knobbe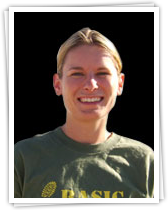 Penny Knobbe has been involved with Basic Training Boot Camp Fitness Program since March 2006. Penny Knobbe is originally from Kansas and relocated to the Sacramento area in September, 2005. Motivating her to meet many fitness goals, including setting a personal best 5K time at the No Excuses Memorial Day Run, Basic Training Boot Camp Fitness Program has given Penny Knobbe the opportunity to meet great people and stay in shape. Her favorite activities include: skiing, scuba diving and hiking. "Stay in top physical shape – physical stamina is the root of mental toughness," ( Major Dick Winters) is Penny Knobbe's mantra.
Qualifications and Background
ACE Certified Personal Trainer
International MBA completed in Asolo, Italy
Wichita Marathon participant
Over 20 different fun runs, 5K, 10K & Half-marathon
Mather Mud Runs since 2005
---
Judi Will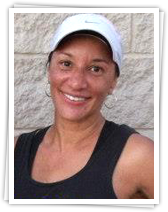 Instructor Judi Will has been involved with Basic Training – Boot Camp Fitness Program since May 2007. Having always been involved in sports and fitness, Basic Training has provided her with the motivation and tools to stay in shape. She has additionally appeared in two Basic Training – Boot Camp Fitness Program videos, demonstrating exercises while motivating recruits.
Originally from San Francisco, California, Instructor Will earned her Bachelors Degree from California State University Chico. Her favorite activities include: snowboarding, wake boarding, wake surfing and mountain biking.
Instructor Will's favorite motivational quote is "Success is to be measured not so much by the position that one has reached in life as by the obstacles which one has overcome." (Booker T. Washington)
Qualifications and Background
Instructor/Presenter at IDEA World Fitness Convention
Mather Mud Runs since 2007
Nike Women's Half Marathon
American River Parkway Half Marathon
Folsom Run With Nature
Chico Wildflower Century
---
Dennis Gacutan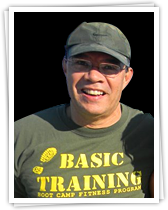 Instructor Gacutan has been involved with Basic Training Boot Camp Fitness Program since October, 2006. Instructor Gacutan began his martial arts training at age ten in Sport Judo. While attending UC Davis, Instructor Gacutan was introduced to a life long study of Dan Zan Ryu Ju Jitsu (Hawaiian Jui Jitsu System) under Sensei Tom Ball, hachidan, (8th degree black belt). He earned his shodan (1st degree black belt) in 1975, and subsequent nidan (2nd degree) and sandan (3rd degree) in 1984 and 2003 respectively. Instructor Gacutan also received the designation of Renshi (instructor level) from Shihan Sig Kufferath, 10th degree black belt, Dan Zan Ryu Jui Jitsu in 1993. He has more than 25 years as Sensei and chief instructor of several Jui Jitsu dojos (schools).
Instructor Gacutan has trained with such martial arts notables as Tak Kubota, 10th degree black belt, Soke, Gosoku Ryu Karate, Willy Cahill Jr., U.S. Olympic Judo Coach, Master Ed Parker, American Kenpo Karate, Master Wally Jay, Soke, Small Circle Jui Jitsu, Ralph Gracie, Gracie Jui Jitsu. Instructor Gacutan draws his inspiration from the Japanese Proverb "Nanakorobi Yaoki," which translates "Fall seven times, rise eight."
Qualifications and Background
Dan Zan Ryu (Hawaiin Jui Jitsu) Chief Instructor, Black Belt – 3rd degree
Ringside Boot Camp Instructor
Certified Okazaki Long Life message
Mather Mud Runs since 2004
---
Elberlino Tiwa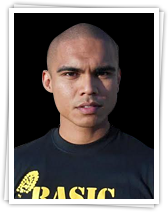 Sgt. Elberlino Tiwa was born on October 22, 1988 in General Santos, Philippines. He moved with his family to Indonesia at the age of two then immigrated to the United States in August of 2002. Sgt. Tiwa joined the delayed entry program in October of 2009 and was sent to Marine Corps boot camp on January 19, 2010.
Sgt Tiwa was assigned to Platoon 3225, Kilo Company, Third Recruit Training Battalion at Marine Corps Recruit Depot San Diego, and graduated on April 16th, 2010. From there, Sgt, Tiwa was transferred to the School of Infantry at Camp Pendleton, California, for Marine Combat Training. Upon graduation, he went to Fort Lee, Virginia, for MOS training as a 1316, Welder. While in training, Sgt, Tiwa was awarded a Meritorious Mast for outstanding academic performance.
In November of 2010, Sgt, Tiwa was assigned to Battalion Maintenance, Headquarters and Service Company, 3rd Assault Amphibian Battalion.
While In Battalion Maintenance, Sgt, Tiwa was nominated to compete in the meritorious Corporal board. He won the board and was meritoriously promoted to the rank of Corporal in June of 2011. Sgt. Tiwa was then sent to the Corporal course on august 22nd of 2011, where he served as the platoon Sergeant for the 4th platoon.
In February 2012, Sgt. Tiwa was sent to the shooting Instructor course. Sgt Tiwa is currently one of the shooting instructors for the 3rd Assault Amphibious Battalion, which is responsible for training and updating Marines on shooting techniques.
In June of 2012, Sgt. Tiwa was nominated as the Non Commission Officer (NCO) of the quarter for the 3rd Assault Amphibious Battalion. He then went on to the 1st Marine Division NCO of the quarter board where he placed 2nd against over 5,000 NCOs throughout the Division. In August 2nd, 2013, he was meritoriously promoted to the rank of Sergeant.
Sgt. Tiwa spends his off time pursuing a number of different interests. He participates in community service events lead by the battalion chaplain, and spends many hours at the gym improving his physical fitness. Sgt. Tiwa also enjoys competitive shooting. He serves as the shooting captain for the 3rd Assault Amphibious Battalion in the annual Intramural Shooting Competition. Sgt. Tiwa is also currently pursuing higher education. He attends University of Phoenix and plans to obtain a Bachelor of Science degree in Psychology.
Sgt. Tiwa was recently discharged from active duty on January 18th, 2014.
Qualifications and Background
CrossFit Level 1 Certified Trainer
HITT Level 1 trainer
Currently pursuing personal training certificate with ISSA.
---
Michael Loretta
Michael Loretta has been involved with Basic Training Boot Camp Fitness Program for over five years. Michael has attained a fitness level that enables him to enjoy his favorite recreational activities including biking and swimming. Michael Loretta particularly enjoys the camaraderie shared with other members of Basic Training Boot Camp Fitness Program. "People grow through experience if they meet life honestly and courageously. This is how character is built." (Eleanor Roosevelt)
Qualifications and Background
Basic Training Boot Camp Fitness Program Mud Run Event Coordinator
Master of Public Administration (MPA), University of Southern California
Commercial Fisherman, Bristol Bay, Alaska
---
Antonio Chaquis
Antonio Chaquis serves as Basic Training Boot Camp Fitness Program's Special Event Coordinator. For over five years, Antonio Chaquis has been the DJ for the Marine Corps Ball for the Sacramento area. Antonio Chaquis personal philosophy is "Never quit until the Miracle happens."
Qualifications and Background
DJ Mather Mud Run
DJ Marine Corps Ball, Marine Recruiting Stations – Sacramento
---
Dhon Santos
Dhon Santos's primary responsibility as Marketing Director for Basic Training Boot Camp Fitness Program is to develop effective visual marketing materials to communicate the Basic Training Boot Camp Fitness Program Brand. The visual marketing materials include brochures, flyers, and event logos. Dhon Santos has been a Basic Training Boot Camp Fitness Program recruit since April, 2006. Believing that "We must use time as a tool, not a couch," (President Kennedy). Dhon Santos invigorates and has found the program to have the most exciting, heart-pounding and complete workouts he has endured.
Qualifications and Background
Graphic Designer for the Sacramento Kings, Sacramento Monarchs, and Maloof Sports & Entertainment
Creative Director for the award winning graphic design company, Inspiredfirst
Over 15 years of experience creating both offline and online branding environments
United States Army Veteran, serving as 3/187 Infantry Rakassans Soldier
---
Sgt. Major Henry "Buzz" Hill Jr.
June 30, 1944 – March 13, 2000
My mentor, your boots will be hard to fill. Heaven is safer – now that you have arrived. OOH-RAH! – SDI Carson
Henry "Buzz" Hill was born June 30, 1944 in Cincinnati, Ohio. He was the oldest of six children. Because his mother, Mildred, was divorced when Buzz was a child, he dropped out of school in the 10th grade to help support his mother and his siblings.
The opportunity to make a career in the Marine Corps was Buzz's way out of a disadvantaged life. It is this fact that motivated Buzz to look for ways to help children find a safe productive path in their lives.
Buzz began his military career in 1963 at the age of nineteen. He retired honorably from the United States Marine Corps in June 1986 as First Sergeant/Sergeant Major. Buzz established the first Intervention Prevention program for troubled youth on the island of Oahu, center of Pearl Harbor, in Hawaii. While there he received two consecutive Honor Awards for his role as Drill Instructor, and was an All Marines Heavy Weight Judo Champion. He held three martial arts titles simultaneously.
Upon his retirement from the Marine Corps, Buzz saw the civilian need and desire for fitness and leadership training. Buzz decided to continue his career of discipline, behavior modification, and fitness to the private sector starting with Sacramento. Buzz opened a personal trainer service that catered to high-stressed professionals. His successful training methods attracted many of Sacramento's elite, as well as all age groups (from ages 12 to 78 years old).
Buzz is survived by his wife of twelve years, Deborah Lewis-Hill; his mother Mildred Fourth of Cincinnati, OH; Surrogate Dad, Gerry Harris of Sacramento, CA; Son Eric Demetreous Hill, Daughter LaTesa Joel Hill; Brothers George and Dale, Sisters Jan, Mattie and Vickie, all of Cincinnati, OH. He is also survived by a host of nieces, nephews, cousins and friends.
Buzz touched the hearts of everyone he came in contact with.